You couldn't be there for our September meeting?
Better than a review, catch up on the conferences we recorded for you during our visit to Microsoft's Reactor. 🎥

Listen to our speakers' amazing presentations from Impactful AI MeetUp on Wednesday September 11st.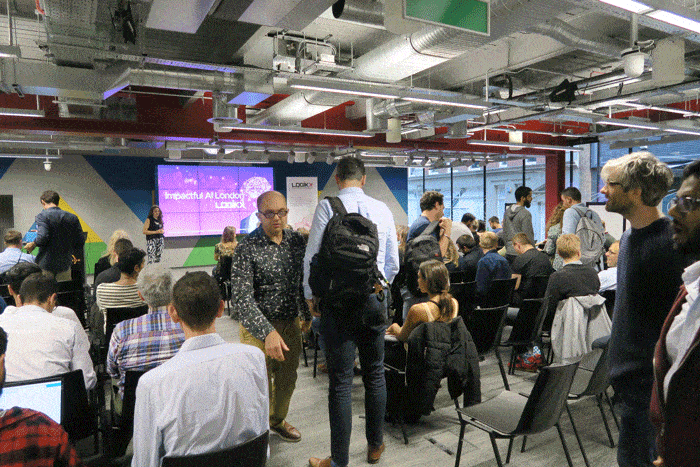 Text to Speech for Social Impact
Kerem Sozugecer, CTO at DeepZen

DeepZen is a company specialised in creating ultra-realistic emotional and expressive human voice.
They create audiobooks in just a few days but DeepZen also utilizes its technology for social impact:
Working in partnership with IBM they aim to use DeepZen's technology to increase the number of audio content for children with dyslexia and visually impaired.
Generative Adversarial Networks for data imbalance problems
Armando Vieira, Founder at Alea.ai
Generative Adversarial Networks (GANs) is a powerful approach to generate data from very few examples.

They have achieved state of the art results for image synthetization achieving photo-realistic quality in challenging problems like human faces.

Armando Viera showed how GANs can be used for very imbalanced problems like insurance and fraud detection.
AI on Satellite Imagery supports Sustainable Development Goals
Leonardo Dal Zovo, Chief Technology Officer at Studiomapp
The 17 Sustainable Development Goals (SDGs) are the world's best plan to build a better world for people and our planet by 2030.

The increasing resolutions of Earth Observation data offer an invaluable opportunity for better informing development policies and quantifying various SDG indicators.

In his talk Leonardo Dal Zovo presented how Studiomapp uses Artificial Intelligence on Remote Sensing data
You don't want to miss our next event? That makes sense 😉
Make sure to register on our Meetup group to be informed of our upcoming events!
We'll see you there!
Get our latest articles and insight straight to your inbox
Hiring data professionals?
We engage exceptional humans for companies looking to unlock the potential of their data