9 Innovative Insurtech Companies
The Fintech revolution has changed the way consumers search for and use financial services. New tech-driven products are making money, assets, and contracts easier to understand and manage. As a result, consumers can make better financial decisions while receiving a better customer experience. A large and growing sector of fintech is insurtech. Innovative companies are completely rethinking insurance as we know it, using big data, AI, blockchain, telematics, and other technologies to drive down back-office costs while giving customers more personalised coverage. Insurtech insurance is disrupting tradtional insurance as we know it.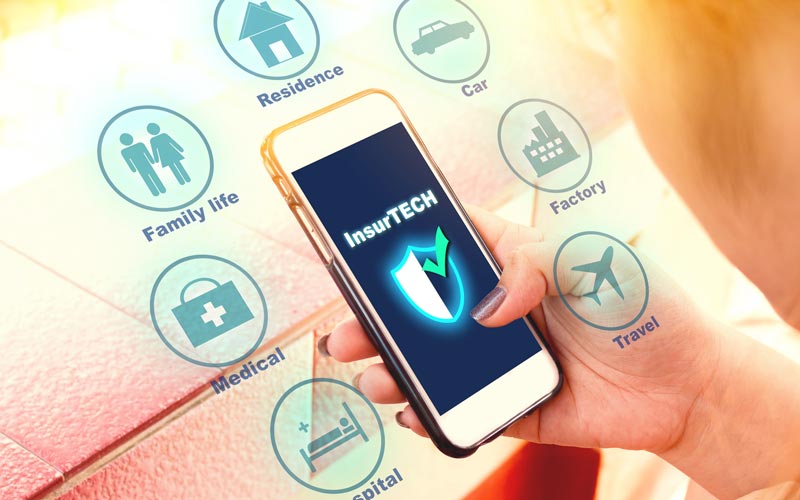 The Rise of Insurtech
When PwC interviewed executives in the financial industry, they found that 74% of respondents saw innovative fintech startups as a serious challenge to major players in the industry. Investment in Insurtech startups has grown accordingly. In 2011, according to data from McKinsey, only $140 million was invested in Insurtech startups. By 2013, that nearly doubled to $270 million. In 2015, Insurtech investment saw a 10x increase to $2.7 billion. The insurtech market in 2019 is starting to mature more than was already seen in 2018.
In this article, we'll review some of the top innovative companies in this rapidly growing sector. These companies are tackling various problems in insurance, from retail sales to damage appraisals to on-the-spot underwriting. Taken together over the coming years, these companies will drastically change the way we think about insurance.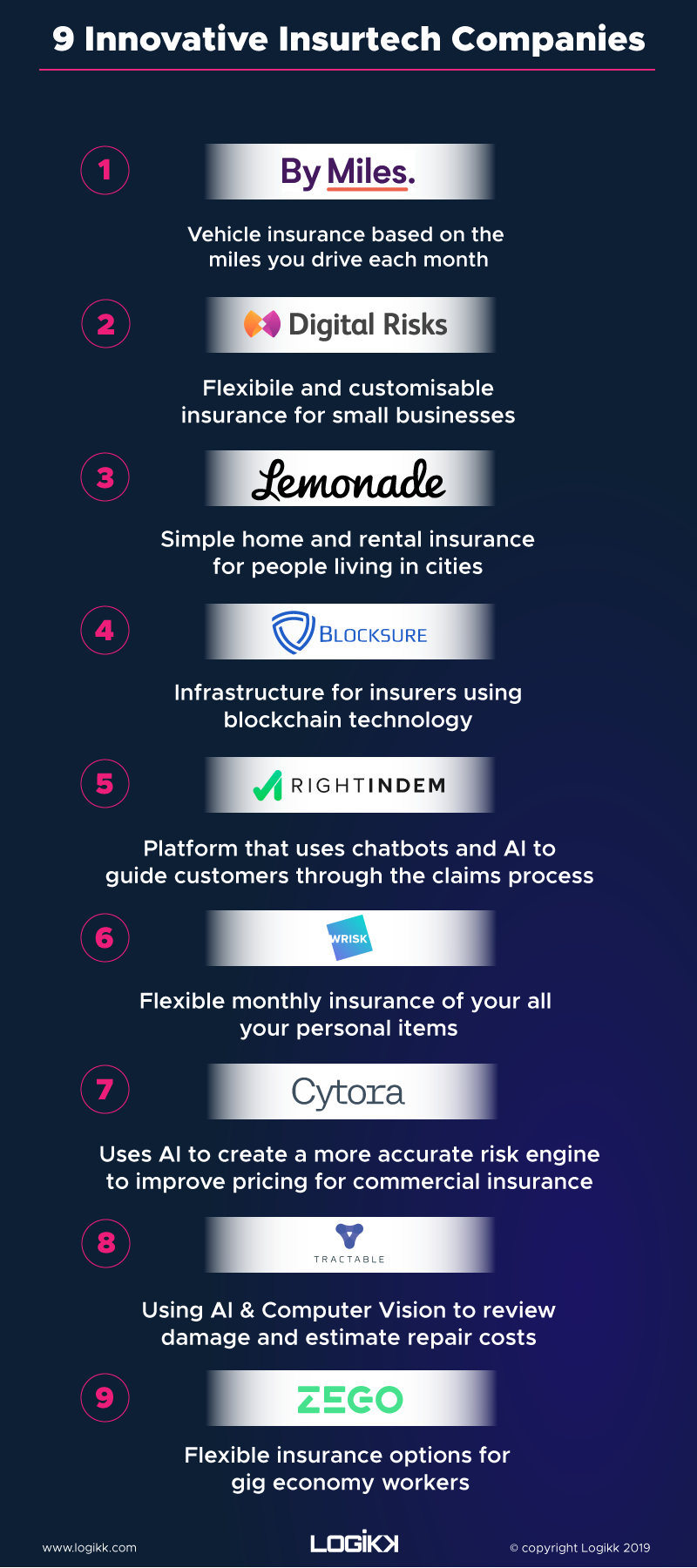 Our list of the most innovative Insurtech companies:

1. By Miles
By Miles is a UK-based startup that is rethinking the way consumers pay for car insurance. A low, fixed annual cost covers your car if it gets damaged while it's parked. From there, you only pay for driving insurance based on the miles you drive each month.
In order for By Miles to track your driving, they'll send you a telematic device to mount underneath your car's dashboard. Importantly, By Miles explicitly does not track how well you drive, only how far. If you don't drive much, MyMiles policies may be significantly cheaper than traditional car insurance. In addition, the insurance cost of each journey is itemized and fully available in the ByMiles app, making your insurance premiums more transparent.

2. Digital Risks
Agile startups and small businesses often have different insurance needs than established corporations. Digital Risks is a new insurance provider that's targeting small and online businesses. Professional liability, data security, office, and legal expenses are all covered under Digital Risks' policies. However, they're built to be customised and don't come with the cumbersome standard agreements of many insurers. Customers pay monthly, and they can update their policies at a moment's notice should they need to change coverage.

3. Lemonade
Lemonade is a provider of home and rental insurance for people who live in major cities. This New York-based company has shaken up the home and rental insurance market in the United States since its entrance. A big insurtech trend is the flexibility of polices. Lemonade have nailed this side of the market. Lemonade is so popular because it makes getting a policy dead simple. Download the app, answer a few questions, and pay as little as $5 per month, and your home is insured!
The speed and agility of new Insurtech startups is a major contributing factor to their success, especially against slow traditional insurers. However, Lemonade goes a step farther. They've created a business model where they take only a flat fee from premiums, then they donate any money that doesn't go toward paying claims. Lemonade argues that this structure means they have no incentive to deny claims, builds trust, and allows them to resolve claims in minutes.

4. Blocksure
Blocksure is putting insurance information on the blockchain, allowing for transparent, tamperproof records. Not an insurer itself, Blocksure is instead focused on providing technology infrastructure for existing insurers. It allows them to work with third parties securely. The company claims the increases in speed and security can reduce back office costs by up to 50%. These benefits extend all the way through the lifecycle of an insurance policy, from sales to administration to claims.

5. RightIndem
RightIndem is another company focused on providing services to existing insurers. They provide claims management software that helps insurers give customers a seamless, hassle-free claims experience. Their platform makes use of chatbots and AI to guide customers through the claims process, saving the insurer's customer support team from having to process those requests. With a digital-first methodology, RightIndem has reduced claim payout times to 1/3 of the UK average and enabled insurers to be available to customers 24/7.

6. Wrisk
Wrisk is making it easy to insure just about anything in your life–your laptop, phone, camera, headphones, car, home–in one place. Their policies demonstrate two major trends in Insurtech: monthly premiums instead of annual, and dynamic policies that can change in response to changes in circumstance.
From an actuarial standpoint, these innovations are possible thanks to predictive AI and big data that allows insurers to make informed decisions about risk very quickly. In Wrisk's case, answering a few questions about where you live and what you'd like to insure produces a Wrisk Score that powers the rates for your insurance.

7. Cytora
McKinsey's research found that about 75% of Insurtech companies are focused on retail consumers. However, London-based Cytora is working on commercial insurance and building a risk engine for corporate liabilities. This risk engine could power the actuarial math at any number of commercial insurers. Cytora relies heavily on big data, analysing data points from external sources as well as insurer provided data. Ultimately they produce a risk score for the business being insured, with highly configurable engine inputs and weighting for insurers.

8. Tractable
Tractable is one of the UK's most exciting and fastest-growing Insurtech startups. They're using AI and computer vision to review damage and estimate repair costs for insurers. Imagine being able to take a picture of your car after an accident or of your home after a major storm and receiving a quote on the spot for repairs. Tractable's mission is taking the latest research in neural networks and computer vision and putting that to work to help people recover from accidents and disasters.

9. Zego
With the rise of the gig economy, Zego found that the way people work is changing, but their insurance isn't. As a result, Zego started in 2016 to provide more flexible insurance options for gig economy workers who use their personal assets (like a car or bike) in a commercial manner. Their first product was hourly insurance for delivery drivers, and they've since expanded their offerings to private hire drivers and other contract workers with flexible hours. The Zego app tracks when delivery drivers or private hires go online and creates a new flexible hourly policy that's renewed for each hour the driver works.
Insurtech startups are growing rapidly
These companies are all fairly young, but so far they've shown tremendous growth and promise. Over the coming years, expect these and others to continue to grow in importance in the insurance industry especially as the insurtech market size grows. If major, traditional insurers want to keep up, they'll need to adopt these technologies. Consumers are increasingly coming to expect fast, seamless user experiences and social responsibility from corporations.
Keep Reading:
I outlined the top insurtech companies in the UK to work for
Discover the concept of real time pricing in insurance
Exciting Opportunities in Insurtech
Would you like to work at innovative an innovative Insurtech company like one of these?
I am currently working with some exciting clients in the insurtech & insurance sector, if you would like to know more then please get in touch with me directly on [email protected].
Get our latest articles and insight straight to your inbox
Hiring data professionals?
We engage exceptional humans for companies looking to unlock the potential of their data